Call now to reserve your dog's Daycare or Boarding!
707 467 7205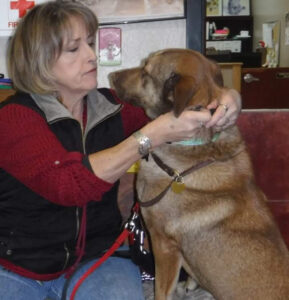 I have been an animalholic since I was a child. I was raised on a 5 acre ranch in Oregon where I had horses, cattle, birds, rabbits, chinchillas and ferrets. My mom and dad were always bringing home dogs and cats and we had a minimum of five or six dogs at a time and 15 or 20 cats. My father was part of the Dust Bowl generation, but believe that animals made humans better. He taught me all he knew about animals and I have followed in his footsteps.
I used to have Rising Moon aviaries when I was living on a 560 acre women's Ranch in Hopland. We took care of many ranch animals but I also had 60 parrots. We were off-grid, so took care of everything without electricity. In 1999 I was diagnosed with breast cancer. This changed my life but the one thing that remained consistent were dogs, cats and parrots. I love all animals. I even like snakes. Now I have the opportunity to open this business that I've wanted to do for years.
Come out and see the facility! Please give me a call ahead of time.
Contact Kathie about Boarding & Daycare
Please note: Forms can not be attached to this contact message.